Tracy Venus is a fun-loving 38 year-old MILF we recently met because of her "friendship" with Crystal Pink. Tracy started wanking when she was about 10 years-old and says she now masturbates every day. Tracy loves to have her neck nibbled - even bitten - and she also likes being held down or slightly "forced" into sex. Tracy has even participated in the British past time of "dogging".


Age: 38
Height: 5' 1"
Measurements: 32C - 25 - ?
Astrological Sign:
Fun Fact: She enjoys working as a pole dancer.
Tracy Venus on her Sofa
Inside This Update:
Video Caps | Movies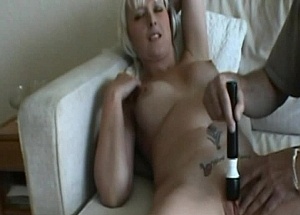 Added 12/30/2012
8 minutes, 43 seconds of video.