Vickie P.
Vickie P is a true finger masturbator, preferring her fingers to toys. But, she's a good sport and always willing to try anything once or twice. Vickie occasionally squirts when she cums, too, and we love the fact that she asks to have her feet and legs rubbed as she wanks. Plus, once she starts cumming, she usually has more than one orgasm! Vickie says her biggest turn on is imagining having sex with another girl and guy. She says she is truly bi-sexual and finds other women really hot.

Age: 26
Height: 5' 6"
Measurements: 32G - 28 - 32
Astrological Sign:
Fun Fact: Vickie loves to have her feet rubbed and tickled. It'll make her cum!
Updates Featuring Vickie P.
Vickie P for Two (fb)
Inside This Update:
Video Caps | Movies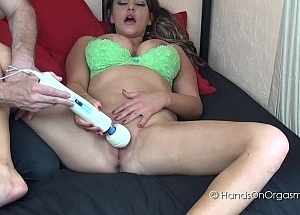 Added 09/11/2018
11 minutes, 46 seconds of video.